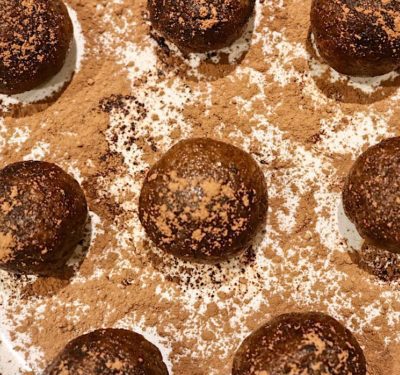 Don't you just love it when an idea works first time. These little beauties are just that. Cardamom and lemon Cacao balls are one of those creations that went literally from idea, to making it, to eating it, in minutes. (Scroll to bottom for recipe).
Cardamom and lemon cacao balls were born from the fact that I have a rather sweet tooth and this unhelpfully usually strikes in the evening when a pre-bed sugar spike is most certainly not what I need. I've come to realise there is definitely some emotional thinking entwined in there; a kind of 'let me reward myself with a treat at the end of a long day' type of thinking. Problem is I whole heartedly believe treating yourself is an extremely important part of happiness; but, of course everything in moderation I suppose 🙂
Anyway, after some thinking I thought what would be perfect in a post dinner /pre bed treat would be something that was calming for the mind and cleansing for the digestion, with cardamom and lemon being just that.
Note: Although these have many healthy benefits, dates do still have natural sugar in them so try to resist eating too many 😉
Cardamom & Lemon Cacao Balls
2018-01-30 14:15:58
Ingredients
Cardomom x6 pods
Cacao powder (raw) x3 tbsp
Medjool Dates x10
Ground almonds x150g
Lemon x1 (juice and rind)
1 heaped tbsp cashew butter (optional but makes more creamy)
Instructions
Put ground almonds in food processor and blend until begins to form butter/ paste consistency (5mins approx)
Add medjool dates & lemon juice and continue to blend until all is a paste
Break the cardamom pods and scrape out the black seeds into the food processor, disregarding the shell
Add all other ingredients to the processor and blend until all mixed and beginning to stick together
Roll into balls
Place in fridge or freezer, dependant on how chewy you want them. Enjoy as you please
Valueyourmind http://www.valueyourmind.com/