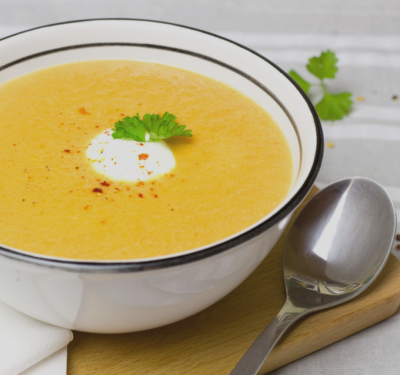 Yummy yummy yummy! Now the weather's turned there's nothing better than getting some earthy veg together and slow cooking it into a delicious soup. Good for the soul, good for the heart and definitely good for the belly!
I initially created this soup without the lentils but noticing my belly was in need of more of a 'meal soup', I recently decided to add lentils and I have to say I think it's a pretty good addition. You really do feel satisfied after a bowl full.
Did you know feeling satisfied is actually extremely important for our moods; it sends positive signals to our brains, which in turn tells our nervous system to relax. Oh, and it's even better when our bodies and brains know that what we are satisfying ourselves with is also replenishing our system and filling us full of goodness!
I occasionally add a swirl of crème fraiche and homemade pesto if I'm feeling really fancy. Along with a hunk of brown buttery bread.
Netflix on, feat up. Autumn night in sorted.
Butternut Squash & Lentil Soup
2017-09-05 15:15:16
Serves 6
Perfect autumnal soup
Ingredients
1 Butternut Squash
1 tbsp Coconut Oil
1 Red Onion
1 Litre of Veg Stock
200g Green Lentils
2 Cloves of Garlic crushed
2 tsp of chilli flakes (dependant on taste)
Instructions
Fill the kettle and boil
Once boiled mix into a stock
Meanwhile, finely chop onion
Heat coconut oil in pan with garlic and onions, lightly cooking until softened
Remove skin and cut up butternut squash
Put it in a big pan or slow cooker, along with the onion and stock
Cook until the butternut squash has softened (approx. 30 min but can be longer if so cooking)
Blend this mixture into a pureed consistency
Add lentils and chilli flakes and cook for further 30 mins
Salt and pepper to taste
Valueyourmind http://www.valueyourmind.com/