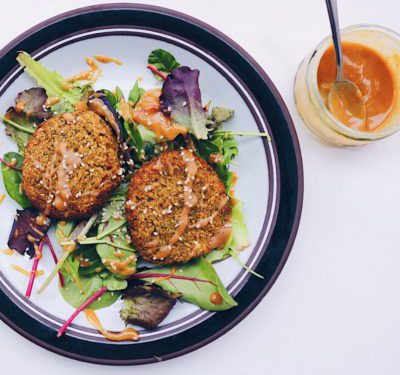 These courgette and cauliflower vegan fritters are so quintessentially VYM; They are incredibly easy, amazingly healthy and of course, packed with many wonderful properties for the brain.
I typically don't eat that much cauliflower, probably because I always liken it to cauliflower cheese and that's about as far as my imagination goes with it. But what with having bored myself with sweet potatoes and kale, I thought it's about time I go back to the old fashioned cauliflower and see whats what.
So how VYM is cauliflower? Well, I'm rating it a 8/10 for the positive impact it can have on our brain (and bodies). It has so many vitamins and minerals protecting and supporting a healthy body, it packs a pretty good punch. One of those vitamins is, Vitamin B, Choline. Vitamin B is one of your brain's best friends as it plays a very important task in improving and helping develop cognitive functioning, that is your ability to learn, remember and understand. In fact so much so that researchers believe it helps to reduce impact ageing has on our brains! So pack a few of these courgette and cauliflower vegan fritters into your weeks and perhaps that dream of forever youth may be less of a dream than you think 🙂
Courgette & Cauliflower Vegan Fritters
2017-05-21 10:50:59
Serves 3
Ingredients
1/2 cauliflower head
2 courgettes
100g buckwheat flour
1 garlic clove
Small handful of coriander leaves
1 tbsp olive oil
Instructions
Turn over to 190 degrees
Cut cauliflower into florets and steam for 10/15 minutes until softened slightly
Meanwhile grate the courgettes into the food processor, before adding the cauliflower and pulsing altogether
Tip veg into tea towel to squeeze out any extra moisture
Add veg to mixer bowl along with crushed garlic clove, finely chopped coriander leaves and buckwheat flour
Mix together until mixture begins to stick. If mixture appears too dry you can add a little olive oil
Season with salt and pepper
Line a baking tray with baking paper and brush a little oil on top of baking paper
Separate mixture into even fritter shapes, place on tray and lightly brush top of fritters with olive oil
Cook for approx. 20min until starting to golden on top
Notes
I think it goes perfectly with salad and cashew nut butter dressing but serve with whatever you wish!
Valueyourmind http://www.valueyourmind.com/