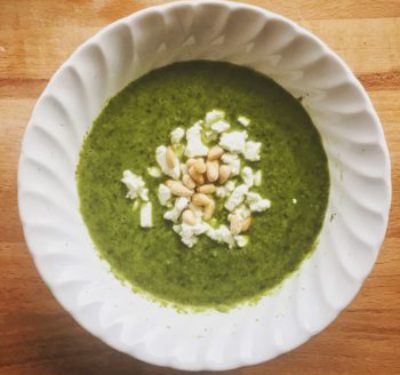 One of the many things I love about winter is homemade soup. It's such a simple way of getting lots of goodness in you and I find a real good soup, like this spinach, pea and mint soup, truly does have the ability to warm the heart.
The pea and mint soup combo was actually inspired by a favourite summer salad of mine – pea, mint & feta. It's such a great combo (and here I've given it that extra popeye boost through the spinach), just the strength that's needed to carry us through the winter months.
Spinach is full to the brim with Vitamin K, A, B, C and E. That, along with the copper, magnesium, Iron and Potassium is what wins it it's place in the worlds healthiest foods hall of fame. The reason I love it in the winter (well it's pretty much a staple all year round but specifically in the winter), is because all those properties mean it gives you a great boost of energy, revitalises the heart and helps fight off the dreaded sniffles winter brings.
Spinach, Pea & Mint Soup
2016-11-08 08:46:40
Ingredients
260g spinach
500g frozen peas
2 garlic cloves
Small bunch of mint
Juice of 1/2 lemon
500ml veg stock
1 tbsp olive oil
For topping-
Pine nuts
Crumbled feta
Instructions
Boil kettle for stock
Wilt spinach in pan with olive oil and crushed garlic
Add everything to slow cooker or large pan (minus the mint)
Cook for 30 minutes on simmer (or as long as you want if using slow cooker)
Add mint before blending it all together
Serve with crumbled feta on top
Notes
If you prefer your soups less thick, just add a bit more hot water
Valueyourmind http://www.valueyourmind.com/